2017 Year-End Review: A Season of Growth
For 2017's Fall semester, HCC was excited to welcome 74 freshmen, boosting total enrollment to 183! However, with a growing student body came a growing need. To maintain HCC's accreditation, and to continue serving its students and values, HCC is required to construct a new academic building on campus, one better equipped to host HCC's ever-growing student body. The funds for this new building must be raised — and construction started — by the end of 2018 to satisfy the requirements of Ghana's National Accreditation Board.
As you can see, 2017 was a year of success and growth for HCC. Throughout the year, HCC grew to the point of needing this academic building in order to maintain its accreditation or face impediments to further growth imposed by the accreditation review board. Any impediments of this nature will put the timetable for sustained, independent financial stability at risk. That is why our foundation, HCCF, is using all available channels to raise the funds necessary to avoid a potentially damaging blow to our beloved HCC.
Thus, our 2017 year-end campaign was focused on the facility needed to grow HCC. Although the building is a priority, be assured that the main reason for all of our efforts always comes down to the students.
To understand the importance of this new facility and the impact it will have on the lives and futures of not only HCC students, but also those in their communities, take a look at this short video of testimonials from a few students themselves:
Our year end goal, from Giving Tuesday (November 28th) to December 31, was to raise $50,000. Keep reading to see how we did!
Giving Tuesday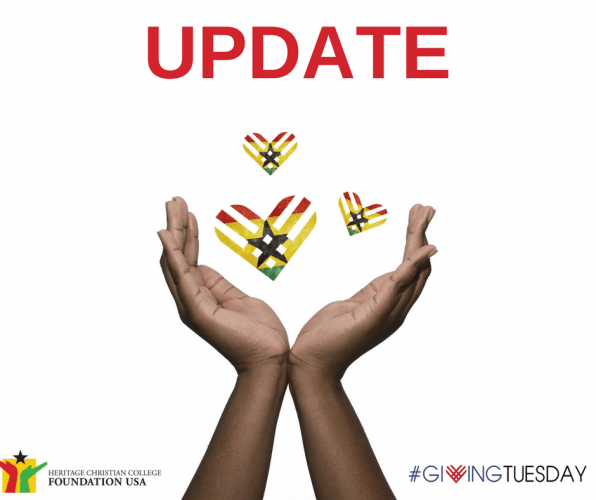 Last year, Facebook announced that beginning on Giving Tuesday of 2017 processing fees for non-profit donations made through their donation tools would be waived. Additionally, the Bill and Melinda Gates Foundation promised to match funds raised on Facebook by nonprofits up to a specified limit. We eagerly embraced this opportunity to propel HCC's vision forward.
With the help and support of our generous donors, we were able to raise $7,117 for HCC on #GivingTuesday alone! And, although the $2-million Facebook match ran out less than 30 minutes into #GivingTuesday, we were pleasantly surprised to have received $250 of the match! We were encouraged by the support and generosity we received on this day for HCC.
And still, our community of donors did not stop there. Although Giving Tuesday came to an end, the donations did not! We managed to raise a total of $25,397 by the end of November!!!
As November came to an end, we were ready to continue toward our goal for the remainder of 2017 and began gearing up for December.
December

Did you know that over 30% of annual giving happens in the month of December? People tend to get more involved with nonprofits and charitable organizations over the holidays. It's undeniable that the average person's generosity and kindness is magnified during the holiday season. Additionally, the end of the year is an apt time to lighten our taxable income burden, while making a meaningful gift at the same time.
With over $32,000 raised throughout November, we had $17,487 left to raise by the end of the year to meet our goal. We remained positive and hopeful that we could reach, or come close to reaching, the goal set forth.
By the end of December we raised $14,580 in donations, which brought us to a total of $47,414 raised through year's end! We are beyond pleased and thankful to our donors for helping us raise just under $50,000, and nearly 95% of our goal.
Because of HCC'S growing need and tight timeline, we set a lofty year-end fundraising goal for 2017. And the fact that, together, we raised nearly $50,000 for HCC is incredibly impressive and encouraging! In fact, our generous donors helped us raise over $10,000 more during our 2017 year-end campaign than in the same year-end period of 2016.
Just as HCC continues to grow every year, so does our community of donors and supporters. We look forward to 2018 with great anticipation and excitement. Thank you to everyone for embarking on this journey alongside us. Let's make 2018 the most successful year yet!