This is what people are saying about HCC. We are proud to be known as a distinctive university that is making an impact.
HCC Student is Baptized
A Level 100 Bachelor of Business Administration (Business Information Technology) student, Foster Obeng, has taken a step of faith by giving himself to the Lord in baptism. Foster, from a Charismatic background, decided to obey the gospel after a series of studies on salvation. He was baptized by Mr. Conrad Kakraba, Executive Assistant to President of HCC, who coordinates activities at the HCC Chapel.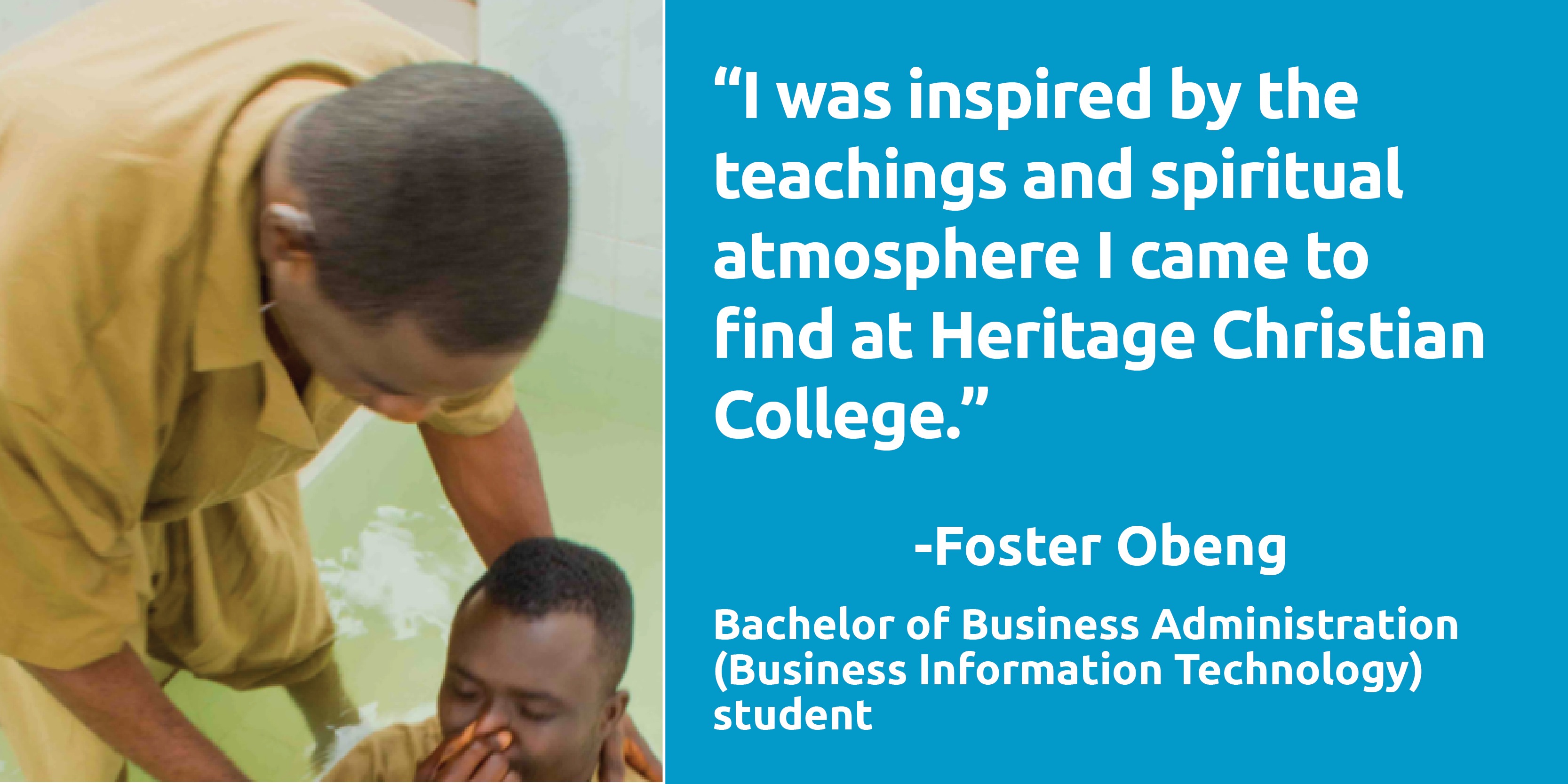 Actor John Dumelo Visits HCC
John Dumelo is a popular, award-winning Ghanaian actor. Dumelo was taken on a guided tour around the HCC facilities and was impressed with the university's steady growth. He interacted with some students and encouraged them to take advantage of all the distinctive offerings available through HCC.
During his visit to HCC, he met with the registrar to discuss how the John Dumelo Foundation, which currently sponsors an HCC student, could sponsor more students to study at HCC.
The John Dumelo Foundation is a social impact charity that raises awareness and inspires action on pressing global issues. The Foundation has donated educational items to several deprived schools across Ghana and beyond. The 33-year old actor, entrepreneur and philanthropist became the first Ghanaian celebrity to hit one million likes on Facebook. Dumelo started as a child actor in the 90s in the movie Baby Thief. He went to Achimota School and Kwame Nkrumah University of Science and Technology (KNUST) where he studied Civil Engineering.
Alongside acting, Dumelo is also into farming. He has acted in several movies in Ghana and Nigeria including: The King is Mine, Ties that Bind, The Game, A Northern Affair and the  Adam's Apples film series. He won Africa's Most Outstanding Actor at the Afro Australian Movies and Music Awards (2011), and Best Actor in Lead Role (2013) for the movie A Northern Affair.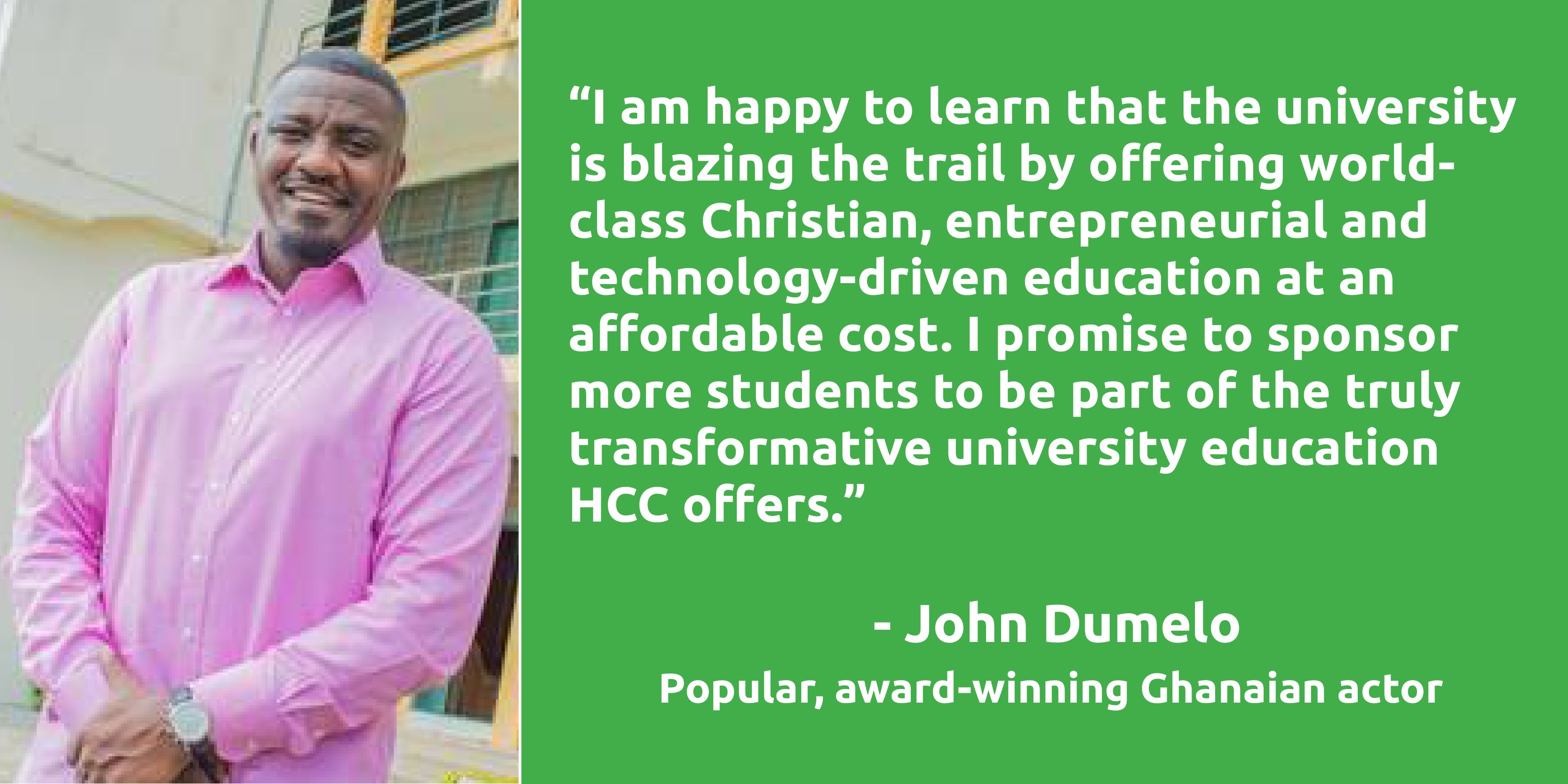 GBC24 Celebrates Dr. Samuel Twumasi-Ankrah
GBC24 is the all-news TV channel of state broadcasting, Ghana Broadcasting Corporation. Recently, during an interview on live TV, they joined in the celebration of HCC president, Dr. Samuel Twumasi-Ankrah, for his 59th birthday.
The ace broadcaster thanked Dr. Twumasi-Ankrah for spending his birthday with the millions of GBC24's audience. Dr. Twumasi-Ankrah, who was visibly taken aback at the announcement, could not hide his joy for the special treat.
Dr. Samuel Twumasi-Ankrah is the founding president of HCC. He has been a Minister of the Gospel for over 30 years and has trained hundreds of Ministers of the Gospel serving in Ghana and other countries in Africa. He has two Master's degrees: one in Theology and Missions and the other in Religion. Additionally, he has a Doctorate of Education in Higher Education and Leadership from Biola University, in California. He is not only the president of HCC, but also an Adjunct Professor at the Graduate School of Theology for Abilene Christian University, in Texas. He is married with two children and a foster daughter.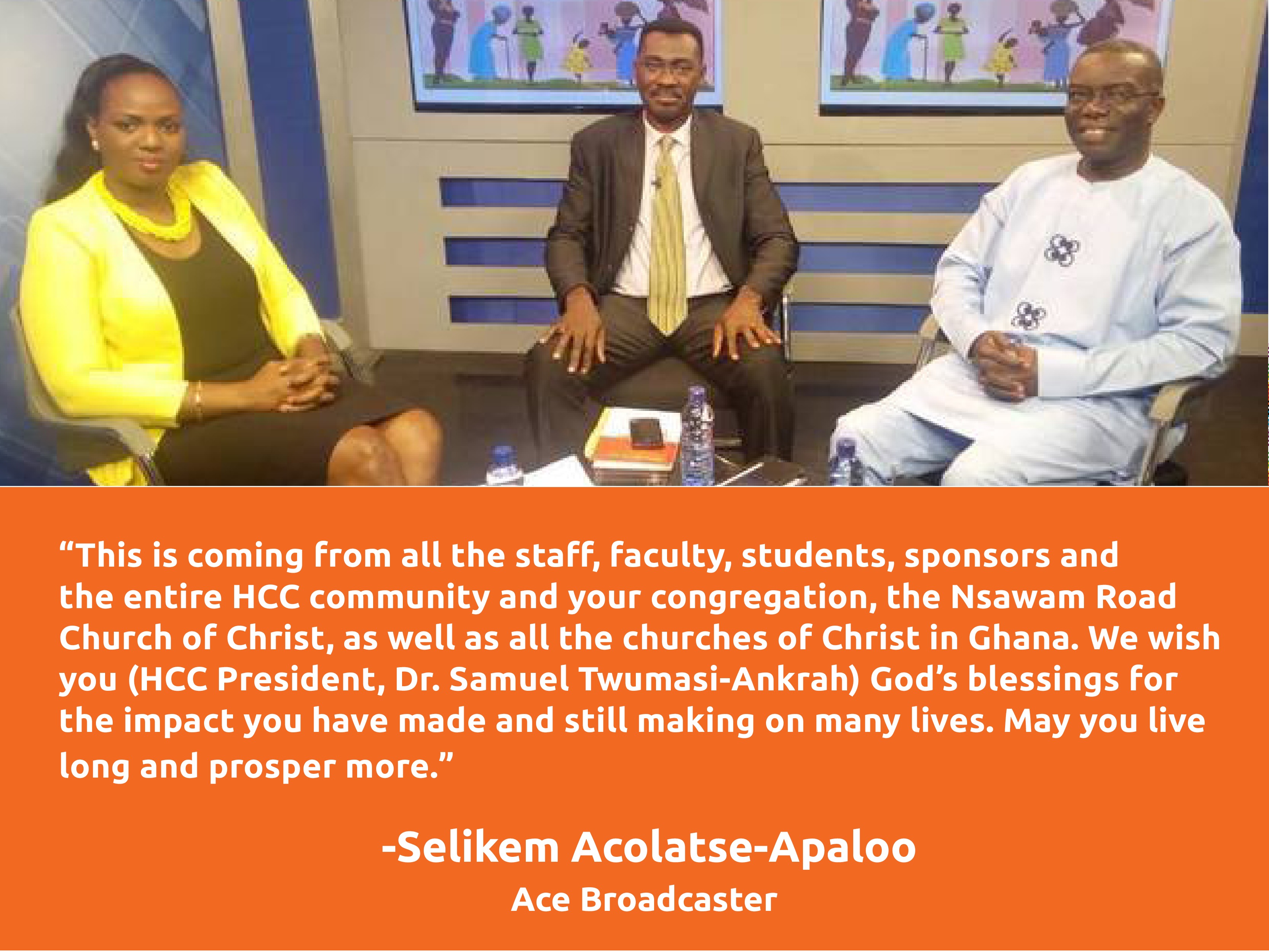 Ten Small Congregations in Ghana Donate to HCC
Ten small congregations of the Churches of Christ around the Amasaman area near Accra have supported HCC by donating for infrastructure development and scholarships.
These churches are located in:
Manhean
Ablekuma Central
NIC
Peace Village
Achiaman
Palase Town
Block Factory
Joma
Insufa
Agape
The churches set out to buy 50 bags of cement to support HCC's quest for infrastructural expansion. They also felt the need to help HCC in its bid to offer scholarships to brilliant but needy students of the church and other students from rural backgrounds. It was such a delightful sight to see members give and give freely to support HCC.
The donation was made at a worship service at the Manhean congregation that brought together members of the 10 congregations. The Preacher of the Manhean Church of Christ, Mr. Robert Quaye, said they believed that "HCC had a great dream that needed a lot of support to see it to fruition."
Dr. Samuel Twumasi-Ankrah was elated by the demonstration of generosity and altruism by the small congregations towards the growth of HCC. He said the example shown by these congregations was inspiring and he prayed that other congregations would emulate their example. Additionally, he said the university belonged to the church and all must help it stand on its feet to realize its vision.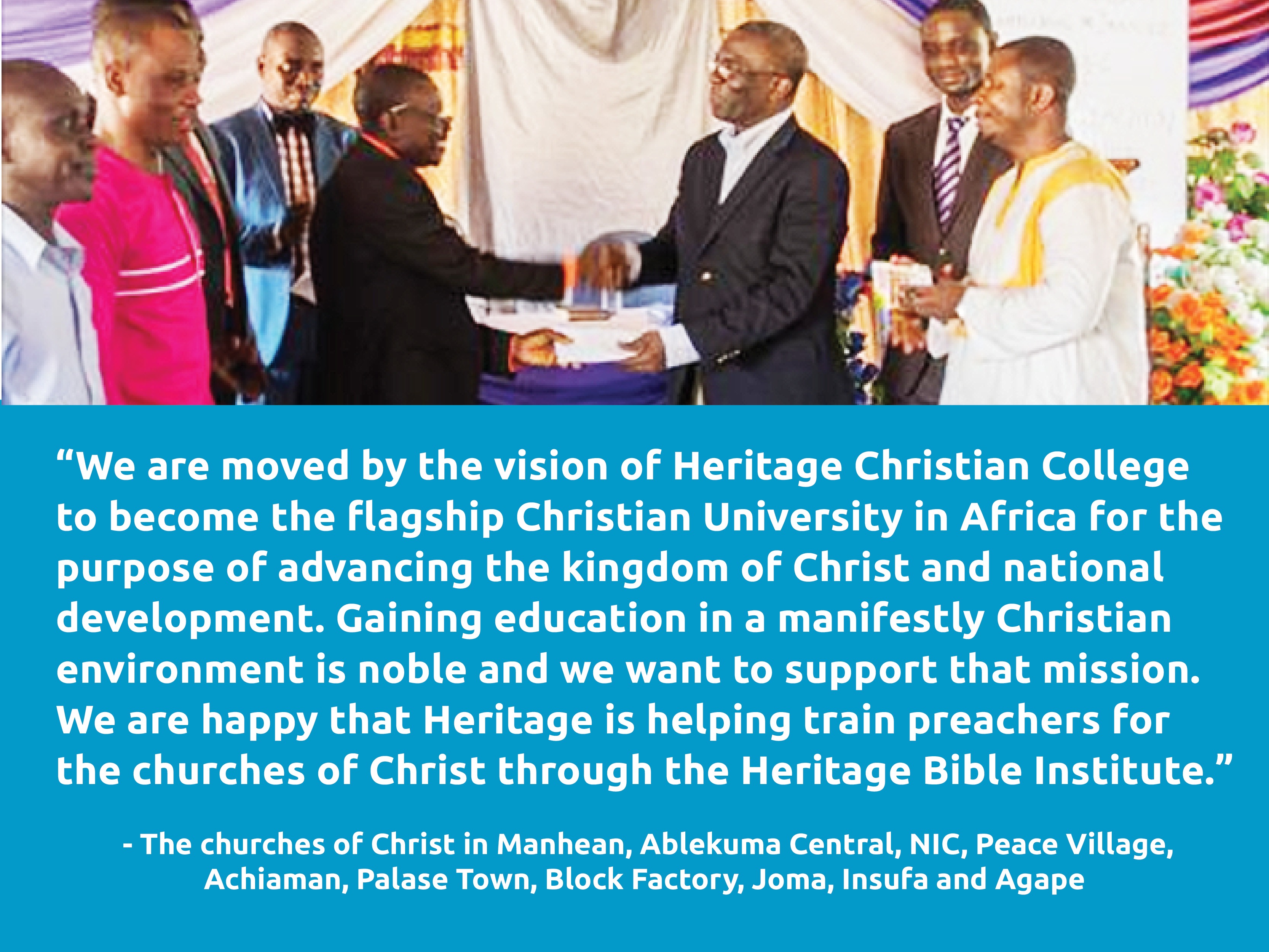 Lipscomb University Staff and Students Visit HCC
HCC was honored to receive a visit from students and staff of Lipscomb University. The team was in Ghana for a mission trip. They came to HCC's campus to interact with students and staff and to see what the Lord is doing through HCC.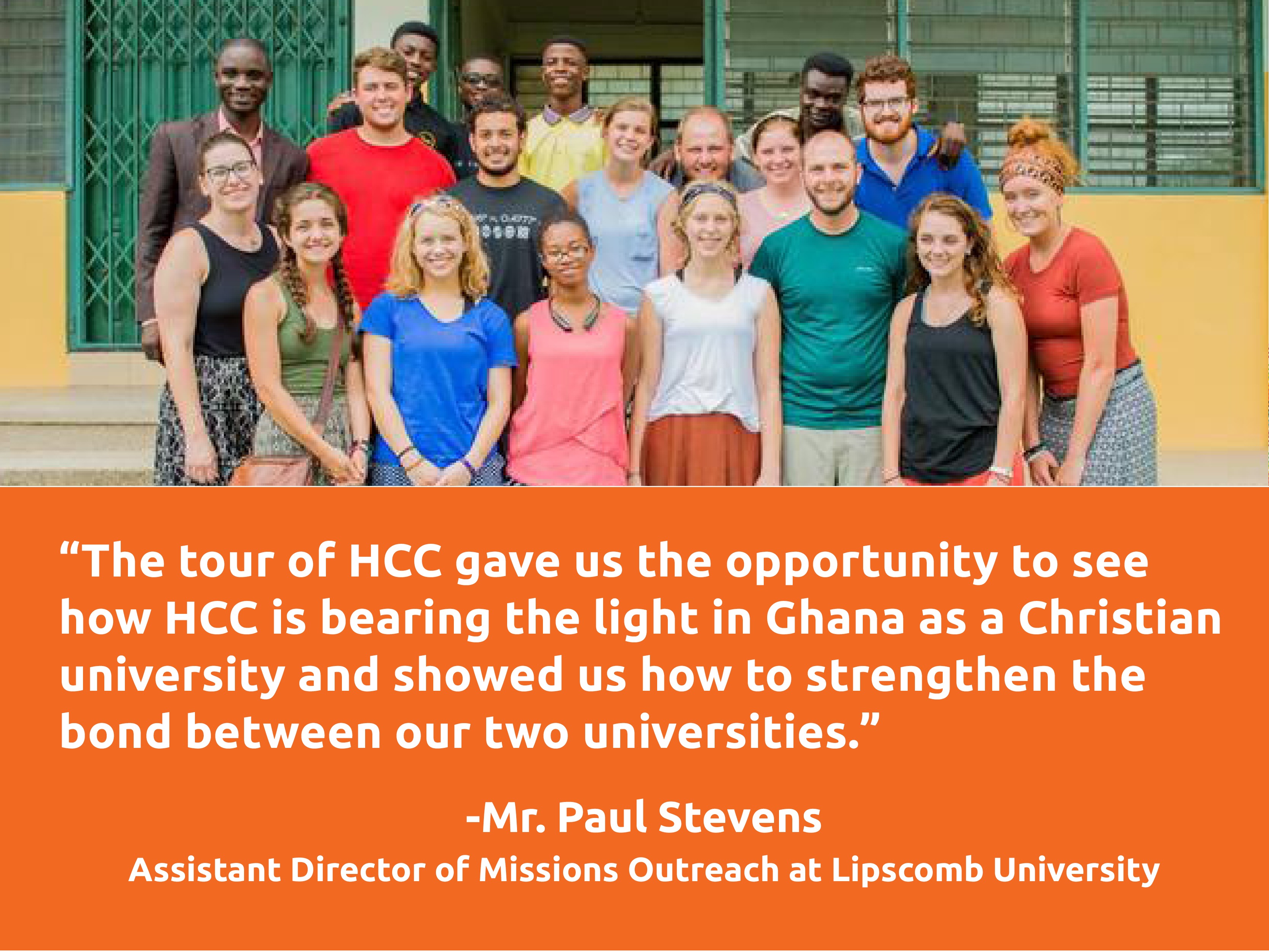 Other Words