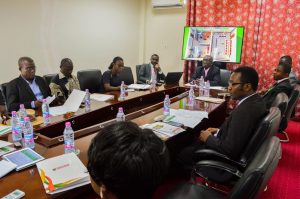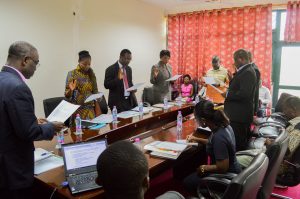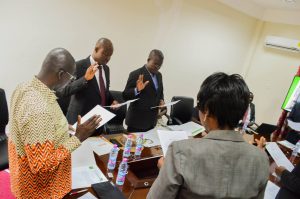 CEPE Inaugurates New Governing Board
A seven-member Governing Board for HCC's Center for Entrepreneurship, Philanthropy and Ethics (CEPE) has recently been inaugurated. The board will steer the affairs for the center. The CEPE will serve as a "business incubator" for students of HCC. The nonprofit center supports HCC students and faculty, along with the entire HCC Community, with entrepreneurial skills and financial assistance to undertake viable entrepreneurial ventures. It aims at developing and nurturing ethical entrepreneurs with the spirit of philanthropy.
The seven-member board is chaired by Mr. Samuel Kumi Ayim – former General Counsel of Ecobank Transnational, entrepreneur and HCC Council Member. Other members of the governing board are:
Mr. Henry Kwadwo Frimpong – Chartered Accountant and entrepreneur
Mrs. Doris Asimeng – entrepreneur
Mrs. Ramatu Ude Umanta – Director of Finance at the Ghana Health Service and entrepreneur
Madam Eugenia Bulley – Chartered Accountant and entrepreneur
Dr. Victor Boadu – Head of Business Administration Department at HCC, entrepreneur and Minister of the Gospel
Dr. Williams Abayaawien Atuilik – Provost of HCC and Director of the Center.
The board is the executive body of the Center. They will formulate policies for the center and establish appropriate structures for the effective and efficient execution of the CEPE objectives. The board has the mandate to review and approve business plans and ideas of the students, faculty, and other employees of HCC without bias. Additionally, they raise funds for the CEPE's programs and will establish and maintain effective internal control systems to ensure judicious use of the funds.
The President of HCC, Dr. Samuel Twumasi-Ankrah, who inaugurated the board said,
As a burgeoning Christian higher educational institution, we are well aware of the fact that many universities just train graduates to have academic knowledge and to have degrees in those areas. But we want to be different—unique in the sense that we don't just want to equip our students with academic knowledge but we have set out to train our students to be entrepreneurial: that is to be job creators instead of job seekers.
The President urged members of the board to superintend over the CEPE so the university can attain its vision "to become a flagship Christian university in Africa for the purpose of advancing the kingdom of Christ and national development."  
The Center will be launched in a few short weeks.
Information from: https://hcuc.edu.gh/center-entrepreneurship-philanthropy-ethics-inaugurates-board/