Heritage Christian College Foundation sat down for a discussion with Dr. Williams Abayaawien Atuilik and Dr. Sam Twumasi-Ankrah. Below is the part of our discussion focusing on Dr. Atuilik's unique background, perspective, and the leadership he brings to Heritage Christian College.
Dr. Williams Abayaawien Atuilik has established himself as a leader in the fields of law and finance. He holds many titles, including Chartered Accountant, Barrister at Law, Chartered Banker, and Chartered Economist. He also holds the title of Provost and Director of the CEPE (the Center for Entrepreneurship, Philanthropy and Ethics) at Heritage Christian College in Ghana.
A valued Ghanaian leader, Atuilik finds deep personal meaning in his support of HCC's cause. That cause is pushing back against poverty in Ghana and throughout Africa by delivering a distinctive Christ-centered education. This education gives students the tools and experience needed to create opportunities for themselves while also lifting up others in their communities.
Atuilik holds this mission dear, as he can remember a time when the opportunities he now provides were exactly the kind he once desperately needed.
"I remember a particular [time] in my life, where I went hungry for three days," Atuilik recounted, "only drinking water, not because I was fasting, but because there was no food to eat. If you didn't experience it, you wouldn't believe it, but that's real. Three solid days."

"[I] started work at a very basic level, and as I did business, I realized that the real way to really take yourself out of [the] problem is not to be unemployed, but to create a venture, and possibly bring people together, that helps raise it up," he said.
Sharing details of his childhood, Atuilik said, "Personally, I come from a very humble beginning. Both my parents never went to school, not primary one, and so mom was a petty trader, selling on the streets. [My] Dad, [a] laborer, doing basic work, and so it was difficult to get support from parents."
He continued, "So, very early in my years, I had to learn how to do business. I had to sell on the streets of Ghana, to hawk, basically, and to make money and to go to school. I went to school part-time in the afternoon, so I could trade in the morning on the street, make some money, go to school in the afternoon. [That was when I discovered] that industry is very key. When people learn industry, they learn how to manage ventures, to take care of themselves, they can reach very, very great heights. I started this right from a very early age."
The time of greatest need may be behind Williams Atuilik, personally, but he persists in spending much of his personal and professional time assisting those not so far removed from similar circumstances. With HCC, he cherishes the opportunity to provide much-needed opportunities to others.
As Dr. Samuel Twumasi-Ankrah reminisced, both his and Williams Atuilik's formative years contrasted sharply with their current stations in life.
"We have a lot in common…" said Twumasi-Ankrah. "He comes from the northern part of Ghana, I come from the South, [but as far as] the economic background is concerned, we come from very, very humble backgrounds and little did I know that the casual interactions at church and in our home, was going to lead us to the same ministry…"
On meeting Williams, Twumasi-Ankrah said, "I think it goes back to almost 30 years ago, 1989. [I was a] preacher in Nsawam Road Church of Christ, and I was blessed to have, in my youth group, so many young, energetic men and women. And Williams happened to be one of the most dedicated, and […] if not the youngest, among the youngest in the youth group."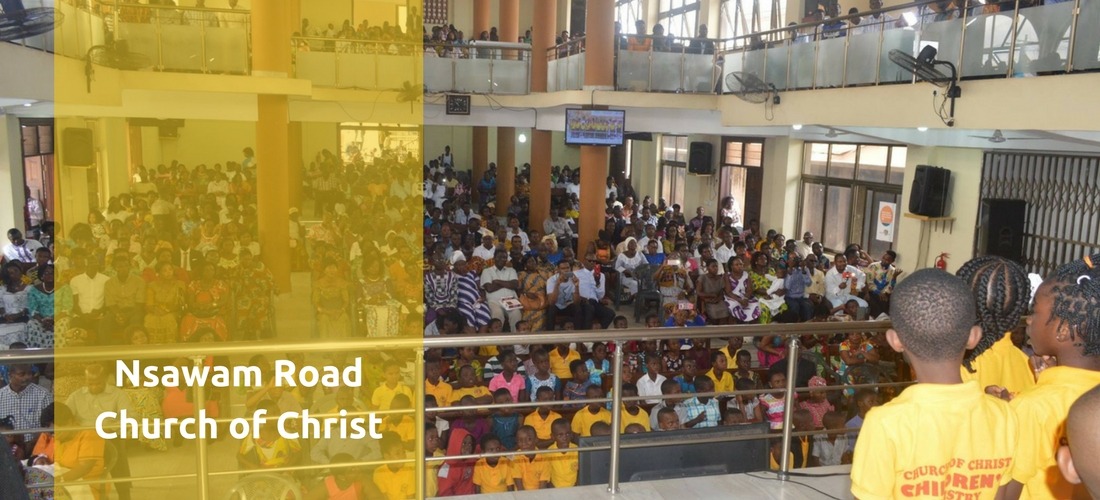 Later, having graduated high school, Williams was in college and volunteering as a teacher. He volunteered to teach Sam's children, allowing their relationship to continue growing in fruitful ways.
"There was a time when [Williams] was in college. I had finished Bible school long ago. I was a preacher for a church, but I wanted to pursue my academic studies, and I had problems with math, and so he taught me math," said Twumasi-Ankrah. "Little did I know, that God was going to use the two of us, of course with others, in a very special way, where we now find ourselves."
Sam and Willie (as Sam calls him, with affection) continued to see their relationship grow in unexpected ways, when a church elder, and CFO of a university in Kumasi (Ghana's second-largest city) visited Sam's home, and inquired about Williams. Then a graduate with an accounting degree, Williams found a position through this connection in Kumasi.
"From that point, Willie has gone on and on and on," Sam said, "And now only God knows how many degrees he has. Actually, he is working on his second Ph.D. His first Ph.D. is in accounting."
"But, God has used him, although he is still very young, as far as I'm concerned he's still a young man," beamed Sam. "God has used him in many, many ways. Until last year, he sat on the University of Ghana council, an appointment that was given to him by our former President, and our current President has given him another appointment. I know he will not tell you this; that's why I'm telling you. The current president has given him an appointment."
"He is like a younger brother to me," said Sam. "We never thought that he and I [would] come to work together."
"He came to me last month[August of 2018] and told me he wants to come onboard and work with us to be HCC," Sam said, making sure to note how he explained that HCC might not be able to pay Williams even one one-hundredth of the salary he makes in his other duties."
"He tells me he feels that Heritage has reached a point where he will be able to help contribute to the vision that we have, and for me I see that. I didn't ask him, he just volunteered," said Sam.
On his level of involvement with HCC, Williams said, "I have been involved on a limited basis to help in various administrative activities every now and then. But I realized that this school has come to a point where we need to provide more support to Sam, so we can push the agenda of the school forward on a more accelerated rate."
Williams has served as an accountant, banker, economist, consultant, petty trader, government advisor, and man of faith, among his many other callings. He is more than happy to add his roles with HCC to that impressive list. Educator, Mentor, Builder of Futures, to name a few. It's clear that Williams Atuilik is a man of both vision and direction.
"What we are trying to do here […] trying to provide quality training for the next generation of leaders of this country, and for Africa, and possibly for the rest of the world, I think it makes a lot of sense to make some sacrifices to provide support," said Williams. "A lot more people, especially people like myself and Deon [Fair, of the Heritage Christian College Foundation] and other people, are making sacrifices to help develop the imagination of the leaders, and so we can also make that same amount of sacrifice on our side. I see a lot of noble ideas and good intentions to build a brighter future for the next generation."