There Can Only Be One First Time:
At Long Last, First Degrees Conferred at HCC
In a historic first for this institution, Heritage Christian College graduated its first class of degree recipients on Dec. 14, in a ceremony held on the school's campus at Accra, Ghana. The contingent of 30 graduates received their honors, amid festivities and heartfelt orations, before a beaming crowd of family members, well-wishers, friends, college faculty, students of the college, supporters, donors, and visiting dignitaries.
In a related ceremony, the college's sister organization, Heritage Bible Institute, commissioned its 19th class of graduates. The latest group numbered 37 men and women.
As one observer remarked, the atmosphere was uplifting and attendees' reactions carried with them certain common themes and expressions. "Overwhelming" was a sentiment expressed by more than one onlooker. "Awesome" was another. And the list of responses goes on: "Beautiful… compelling… motivational… humbling… transformational… challenging… inspiring." Even the term "Epic!" was summoned by at least one visitor who took in the proceedings.
The Maiden Graduation
Calling the occasion HCC's "maiden graduation," the news website ghanaweb.com carried coverage of the graduation day ceremonies, and cited the words of Francis Brown, deemed overall Best Student and winner of the award for Best Graduating Student of the Theology Department.
Brown summed things up well: "As we leave to continue our lives in the world, we should not lose touch with each other. Technology has provided us the means and therefore let us use it to stay together. The bond we form produces great change to do wonderful things that we cannot do as individuals. The more we do things together as one people, the more significant we will be as maiden graduates of HCC. Irrespective of where we may be, we can make a significant impact on HCC and our society if we all stay bonded and work together as alumni."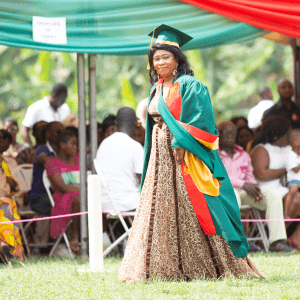 servant leaders
Administrators at HCC said that the graduates "are already reaching out into their communities as servant leaders." The graduates are all grounded in entrepreneurial skillsets and are challenged to go out into the world and create businesses. Indeed, many of them have launched businesses while they were still undergraduates. This being a Christian college as well, the graduates are likewise schooled in scripture and in Bible doctrine, equipping them to be philanthropical and evangelical in their outlooks and in their work lives.
The website GhanaWeb.com also quoted Dr. Williams Atuilik, provost of HCC and executive director of the college's Center for Entrepreneurship, Philanthropy, and Ethics (CEPE). "We are an entrepreneurship focused institution," Atuilik said. "Whilst our students are on campus, we encourage them to come up with business ideas and we support them with money and other resources in terms of how they can organize and nurture their businesses into fruition. We encourage everybody who wants to be an entrepreneur and anchor their learning through technology to apply and be considered for admission."
Friends and Supporters
Some of the friends and supporters of the college who were on hand for graduation festivities included these good people: Shane McClung, Melissa McClung, Douglas Fair, Maria Kell, Steve Kell, Kevin Fair, Logan Cooke, Casey Cooke, Ethan Cooke, Rachel Cooke, Susan Fair, Deon Fair, Mike Ratliff, Jeannie Lytle, Jim West, Mike Brooks, Dr. Dora Akuetteh, Erik Tryggestad, LaDonna Mack, Steve Mack, Dr. Rick Lytle, Matt Brundige, and Chris Grissom. This is not a complete list, nor does it include the many local and regional dignitaries who graced the occasion with their presence. Heritage Christian College extends its thanks and good wishes to all who attended and to those who, though they could not attend, celebrated with the college from afar.
Click to enlarge photos and scroll.