ACCRA, GHANA—In a joy-filled graduation ceremony that welcomed together fellow students, faculty, family members, college dignitaries, a mass choir, and numerous supporters—not to mention four honorable scholars who were themselves the reason for the occasion—the faithful of this Ghanaian community commemorated a historic first. These four recipients of advanced degrees comprise the first graduating class of the Master of Arts in Christian Ministry program, a program administered by the U.S.-based Abilene Christian University exclusively for graduates of Heritage Christian College (HCC)  and Heritage Bible Institute (HBI), both based in Ghana.
As ACU Provost Robert Rhodes, Ph.D., remarked in a graduation message written for the occasion, "These students faced many challenges throughout their studies. Responsibilities to church and family, financial struggles, rolling blackouts, and lack of internet access posed significant hurdles. These graduates should be commended for their persistence in overcoming all obstacles in pursuit of a theological education. We are grateful for them and for HCC. We pray that the Lord will accept these graduates as the first fruits of our shared commitment in the Kingdom of God."
The four Masters Degree graduates were Alexander Maxwell Yawson, Isaac Desmond Donkoh, Arnold K. Dzah, and Eric Akuafo Agbenyo.
Alexander Yawson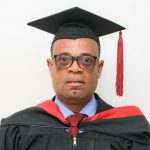 Alexander Yawson, who serves currently as the preacher for the Winneba Central Church of Christ, has been a leader in expanding his congregation's missionary activities. The Winneba Central Church of Christ has assumed a challenging role of supporting and strengthening churches within the Ewutu Senya Municipality of the Central Region and beyond. He has likewise been instrumental in advancing the work of campus ministries, prison ministry, and some churches in Upper West Ghana.
"But for the training I had in Heritage Christian College and Abilene Christian University, I would not have been able to do anything," Yawson said. "Besides the knowledge and skills of preaching, I have been greatly encouraged and mentored by the President of HCC, Dr. Samuel Twumasi-Ankrah."
Isaac Donkoh
Isaac Donkoh currently is the preacher for the Abeka church of Christ, Accra, Ghana. He is also chairman of the Ministers Fellowship, which brings together preachers from Accra to cooperate for the advancement of local ministry.
Said Donkoh:
"What I am today is the work of God through the professors I met at Heritage Bible Institute. I have drawn a lot of inspiration from the President of HCC, Dr. Samuel Twumasi-Ankrah, and my wife, Gifty Animah Donkoh."
Arnold Dzah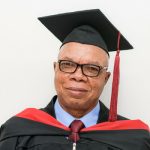 Arnold Dzah currently is a missionary in Senegal in West Africa. Because there was only one congregation when he went to the country in 2004, he started a Bible School there in 2006. Today, the Centre d'Etudes Bibliques de Dakar, CEB, trains evangelists to spread the gospel throughout the region.
"I started the school with the teaching materials I gathered from HBI," Dzah said. "I have been greatly encouraged and mentored by the President of HCC, Dr. Samuel Twumasi-Ankrah, and by HBI Director Evans Lartey."
Eric Agbenyo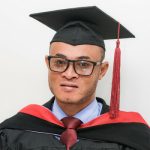 Eric Agbenyo is a part-time minister who assists his father, Michael Agbenyo, in the evangelistic work of the church of Christ at Oblogo in Accra. He completed his educational requirements in Christian Ministry at HBI in 2011. Agbenyo teaches adult Bible classes and also undertakes preaching assignments. He also works with the congregation's youth, encouraging and equipping them in spiritual matters while providing guidance and counseling.
Said Agbenyo:
"The lecturers and staff at Heritage Christian College gave me a solid foundation for ministry and the Masters program. I am very much grateful to Dr. Samuel Twumasi-Ankrah, the President of HCC, as well as Mr. Evans Lartey, the Director of HBI. I am also thankful to Mr. Douglas Ofori, Mr. Noah Osei Aboagye, Mr. Winfred Sackey, Dr. Victor Boadu, and Mr. Fred Asare. I'm thankful to Melinda Thompson of ACU, who provided me with immense support and encouragement. May God bless all of you."
The keynote address was delivered by Dr. Augustine Tawaiah, a member of Parliament, Bia West. His topic was most fitting: "The Significance of Quality Higher Education to the Growth of the church."
As Dr. Rhodes of ACU further remarked, "It is with great joy that we confer degrees upon these fine students. Each one is a beloved brother in Christ. May the Lord of the harvest continue to provide workers for His harvest fields."