Christ himself cared enough about our problems; he came to die. We want to build a young generation of Africans who care sufficiently about the African problem and the world problem… to make a significant contribution in solving those problems. To have many Christians who are well trained with sufficient capacity to do things for themselves, really to push the frontiers of Christianity further. That's what we are doing here. — Williams Atuilik, Provost, Heritage Christian College and Center for Entrepreneurship, Philanthropy, and Ethics
An idealistic vision that sounds like a dream? Yes and no. It's already happening in Accra, Ghana, where Heritage Christian College (HCC) is making a positive difference. The mission of HCC and its Center for Entrepreneurship, Philanthropy, and Ethics (CEPE) is to help Africa help itself – to help students to develop their own potential and to help the continent make better use of its rich resources.
"Mission" has always been a word that brings Africa to mind to outsiders – Africa as a "mission field," a place where evangelists arrive from places like Europe and America to spread Christianity. That scenario has changed, and HCC fits the current scene as a Christian base for sending Africans out to help Africa. And beyond.
It's not by accident that HCC believes entrepreneurship goes hand in hand with the Gospel. The apostle Paul, a tent-maker, comes to mind. But it's a parable of Jesus that Williams Atuilik likes to cite when he talks about the role of HCC and the CEPE:
"More will be given to those who have more capability," he said in a recent Webex interview. "Jesus Christ gave one talent to a particular servant, gave two talents to another servant, and gave five talents to another. The one who got five, according to the scripture, was based on his ability to take care of more, and he confirmed that by using it to work and make fivefold of that. The one who had two also did the same, the one who had the least went and buried it. So we tell our students, if you don't create a bigger capacity to manage more, you will be given less. If you are not careful, even the less that you have will be taken out from your hands."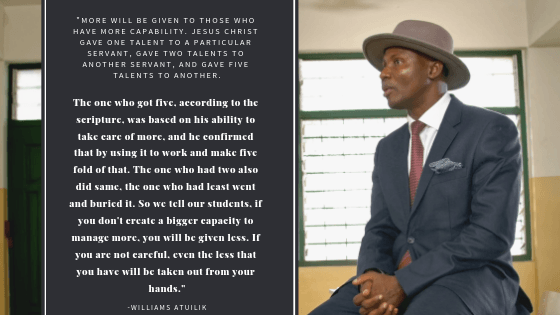 At HCC, entrepreneurship is part of the "culture" of the college – not an elective. It's compulsory for all students to grasp the concept.
"Whatever program that you are doing, whatever curriculum you are following here at HCC, whether you are doing theology, whether you are doing business, or you are doing information technology, we interact with you from the CEPE. We integrate practice on entrepreneurship," Atuilik said. "With whatever that they are learning in their various curricula… it is mandatory."
HCC teaches not only ethics and business principles but also the nuts and bolts of starting a business in Ghana.
"We do lots of training, and the training is not open only for our students," Atuilik said. "It's open to faculty members and the general public."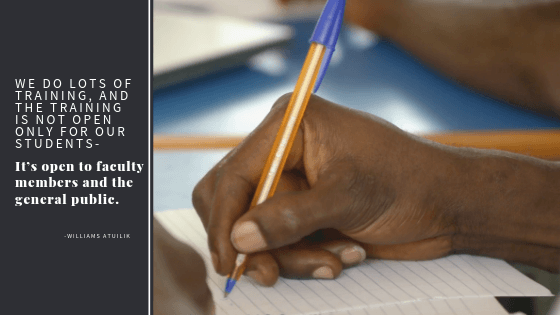 Atuilik categorizes the classroom as more of a "training theater or laboratory" – terms that describe a curriculum designed to fit the real world. Participants learn everything from how to use standard office equipment to how to register a business in Ghana, including the tedious processes of getting permits from various places. And they still learn ethics too.
In one sense, the CEPE is a business incubator, a concept that's been tried with some success in America. Atuilik doesn't use the term "incubator," but he describes the same sort of approach to hatching businesses.
"We have lots of people here who can do things," he said. "All you need is to build their capacity. We are targeting the younger generation. We want to make sure [not to] churn out people who will go out with knowledge, and they cannot do things. As we give them knowledge, and we give them practical skills, we want to be able to support them to get started immediately.… They will make mistakes but with our guidance we will support them. So by the time they are getting out, they will have a solid grounding and they can pick up from there. That is the way to go actually."
Already it's working on several fronts, including right on campus, where students have set up a catering service to meet a need for food on weekends, a time when regular food services don't function.
Some other students are trying to launch a mushroom business.
"They are trying to get people to eat mushrooms instead of fish," Atuilik said. "They are just trying to find a way to organically produce mushrooms and store them and sell them. They have started their operations. They are the winning team for the Start-up Challenge."
Challenges and competitions are ways the school decides which projects are worth funding and which students have earned the right to get help with their ideas. HCC's Team Charcoal recently won an international competition. "We chose Team Charcoal as the winning team from HCC," Atuilik said, "and then they went to San Diego and they came back with the prize."
Still in the works, it's a project to convert human waste to charcoal. HCC believes the idea should resonate with Ghana's Minister for Sanitation. Meanwhile, the win has given HCC invaluable positive publicity.
"The whole country woke up to that news with excitement and the media, major television stations, and radio stations," Atuilik said. "The news about the victory of Team Charcoal was all over the place. We have lots of invites from various media houses to get us to speak about the whole concept and the project, and that's still going on."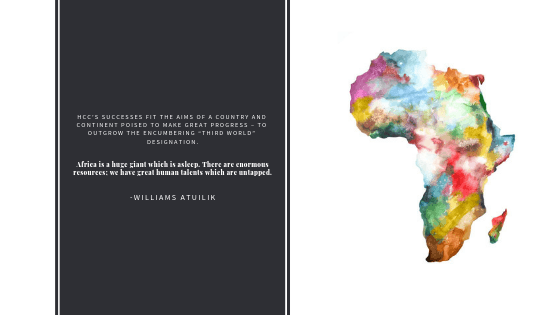 HCC's successes fit the aims of a country and continent poised to make great progress – to outgrow the encumbering "third world" designation.
"Africa has plenty of natural resources," Atuilik said. "In fact Africa is a huge giant which is asleep. There are enormous resources; we have great human talents which are untapped."
HCC has positioned itself at the leading edge of the hopeful trend – see #AfricaRising – and stands ready to see good things happen across Africa. The college is already tasting success. Entrepreneurs equipped with practical business knowledge and invigorated with the spirit of Christ are using their start-up talents and beginning to see them multiply. And that's what it's all about.
by Hanaba Munn Welch