None of Africa's problems are beyond the means and resources within the continent. And at Heritage Christian, we believe those means and resources are within our very walls.
The Economic Issues of Sub-Saharan Africa
Every 24 hours, nearly 33,000 youths across Africa join the search for employment. About 60% will be joining the army of the unemployed. Africa's youth population is growing rapidly and is expected to number more than 830 million by 2050. Whether this spells promise or peril depends on how Africa moves forward. There are between 10 and 12 million people that are eligible to join the African labor force each year, yet only 3.7 million jobs are created annually.
4 Key Issues
There are common themes cutting across Africa that have lead to its current economic crisis: corruption, unemployment, lack of jobs and poor banking systems.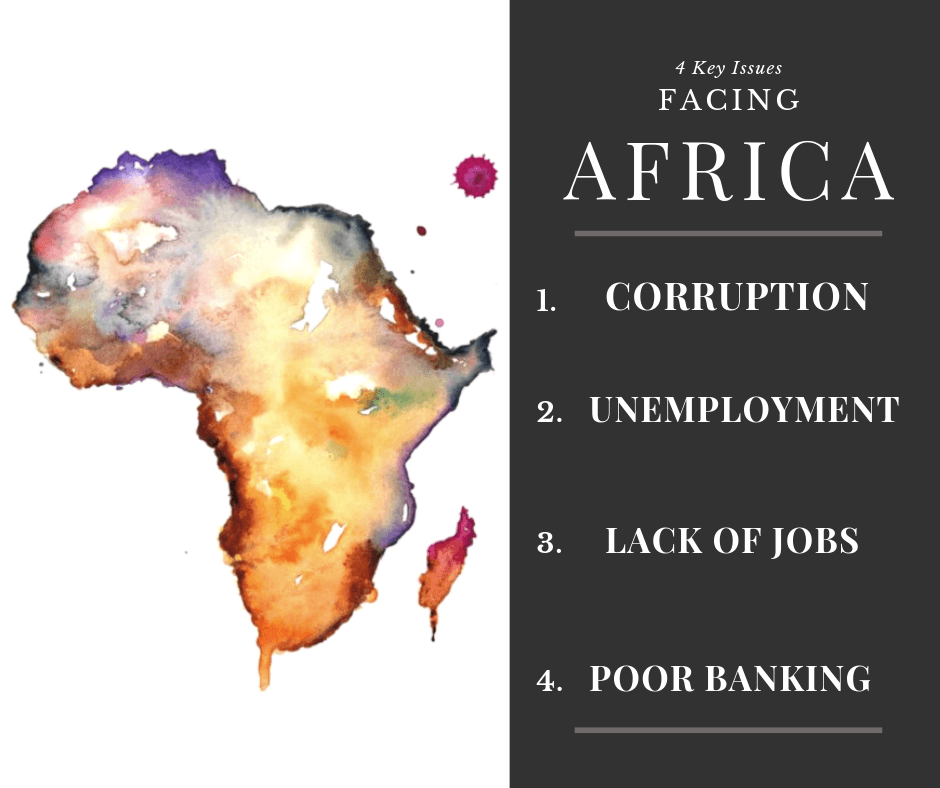 1 – Corruption
Corruption is endemic to the way of life in much of Africa. It permeates all facets of life, from medical care to schools to use of public resources. Its entrenchment is manifested in great inequalities in access to services from government offices as well as access to opportunities for investment, with many local and foreign firms discouraged and forced to close business. Though progress is being made, corruption still affects such key sectors as healthcare, education and infrastructure.
2 – Unemployment
From education to (lack of) employment opportunities, entrepreneurship plans and assistance, the African governments face challenges on how best to mitigate a ticking time bomb. This in turn contributes to lower family incomes, crime due to joblessness and a host of other social issues.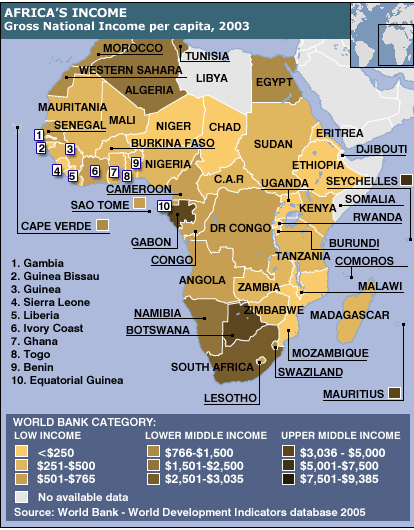 3 – Lack of Jobs
Poverty is at the heart of many of Africa's issues. Most of Sub-Saharan Africa is in the World Bank's lowest income category of less than $765.00 Gross National Income (GNI) per person per year. Ghana specifically sits at an income range of $501.00 – 765.00 per year.
This level of poverty is due in a dire shortage of jobs for Ghanaians. Africa's youth sits wondering if it is even a worthwhile endeavor for them to obtain a degree or diploma, as the failure of individuals to get or create jobs raises critical levels of concern. As a result, unemployment remains the most significant national problem threatening Africa's economy.
4 – Poor Banking Systems
On average, some 5,000 students graduate from the University of Ghana every year. Ghana has nine national public universities and eight technical universities. The number of "professional public institutes," "university colleges," seminaries and other such institutions is somewhat larger. So there are indeed institutes of higher learning in Ghana. But with job availability being so poor, what are the graduates to do? And if some might want to create jobs for themselves or others, why are they not starting businesses of their own? With incredibly poor banking systems in place, the simple fact is that most can't afford to start new businesses.
The HCC Difference

It is HCC's mission to help build Africa, equipping students with the tools needed, one course at a time. As new buildings begin to break ground and more students enroll, hope continues to rise.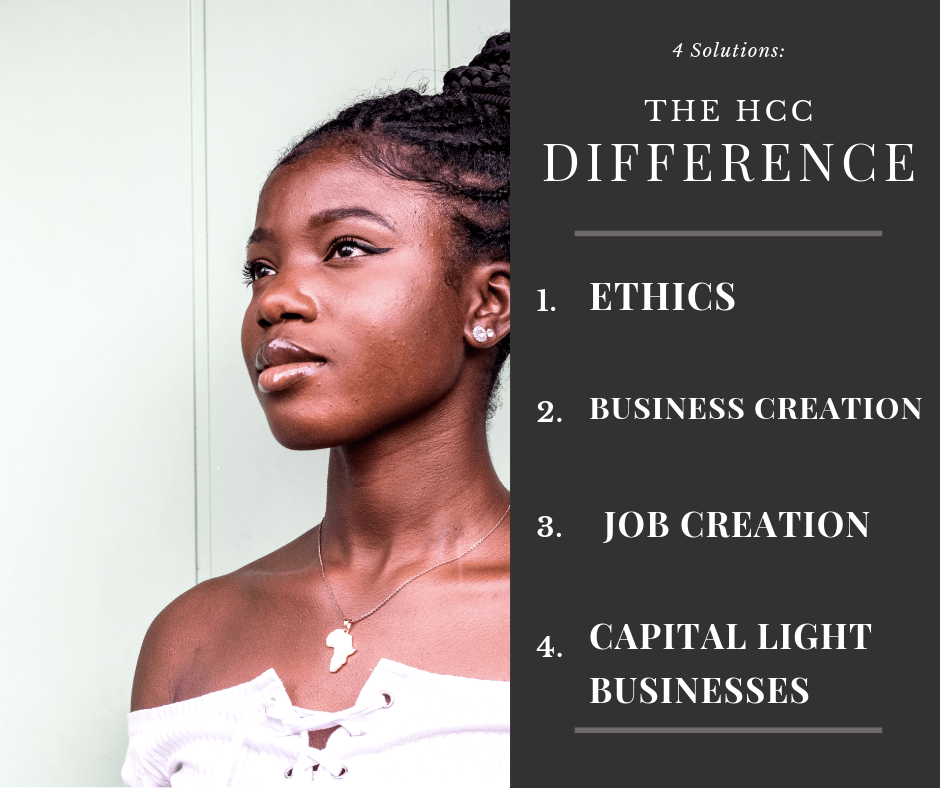 4 Key Solutions
1 – Ethics – Shaping An Ethically Inclined Tomorrow.
Corruption may be a major factor of Africa's economic decline, but Heritage Christian believes the antidote resides in a strategy of arming Africa's youth with strong ethics. HCC approaches teaching of ethics through all modalities but most importantly by example and mentoring. Too often the norm in teaching ethics is to fragment the topic into specialization areas: medical ethics, Christian ethics, business ethics, political ethics, social ethics, etc. Although there are issues within the context of these areas and others, HCC teaches one unified ethic across all modalities – as Christians governed by one set of principles across all roles.
Economic development theory suggests that some amount of chaos is inevitable as countries develop their economies. Over time, discipline becomes crucial so that behavior expectations can be assumed and risk considerations can be assessed. Teaching and mentoring ethics is an integral element of this process of progress. Not only is ethics essential and necessary for the development of society but as Christians we are compelled to be and to live at a higher standard.
2 – Business Creation – Graduates from HCC won't just seek jobs, they'll create them.
HCC graduates will have experienced their learning not just in the classroom but through the opportunity to practice and develop their own ideas under the guidance of mentors. With entrepreneurship at the core of the mindset and practices taught to all students, Heritage Christian created the Center for Entrepreneurship, Philanthropy and Ethics (CEPE). This on-site center is where students work to achieve their biggest aspirations by proposing a business plan and receiving financial backing upon approval. It was Dr. Samuel Twumasi-Ankrah, president of HCC, who first envisioned the CEPE, and saw it to be a distinctive solution to offer students. As the direct antithesis to the lack of jobs in Africa, the CEPE enables students to feed families, restore hope and find economic stability.
3 – Creating Jobs for Others – Transforming Ghana one Job Opportunity at a Time.
Through the hands-on training and financial sponsorship of HCC, the new businesses students create won't just benefit the individual student. These new businesses will provide jobs for others. This empowers so many individuals to add to the stability, security, and prosperity of their families, neighbors, countrymen and encompassing nations.
4 – Capital Light Businesses – The Solution to Rising Interest Rates
How do you combat a failing banking system with rising interest rates? Start businesses with low start up costs. And that is exactly what HCC is training its students to do through the CEPE. The message to students? Do more with less capital – and let the college help you achieve it.
Africa Rising
Africa doesn't just need strong minds, it needs strong character and strong institutions. The decline of Africa's economic fortune has exacerbated tensions along traditional fault lines while simultaneously unmasking new ones – making the task of nation building seem even more daunting. To rebuild confidence in the country, strong minds must be built through strong institutions. It is only strong institutions that can guarantee social protection, bring about political stability and ignite economic prosperity.
Changing The Climate Through HCC
A Strong Institution for a Stronger Africa
It is because of aware, motivated individuals such as yourself that HCC has come as far as it has, and it is because of individuals such as yourself that the college can thrive and grow. The hopes of Ghanaians and West Africans rest on the generosity of people who see the critical role that HCC plays in Africa. Your participation in this dream can lift not just a college but a nation, a region, and the cause of Christianity itself in a pivotal part of the globe. These students need your help. Just one year at HCC costs seven times the yearly salary of the average Ghanaian. (One year = $5,000. For a full breakdown of tuition costs, go here). Gifts of all sizes to HCC's scholarship fund make a transformative commitment by investing in Heritage Christian College, her students, and Africa.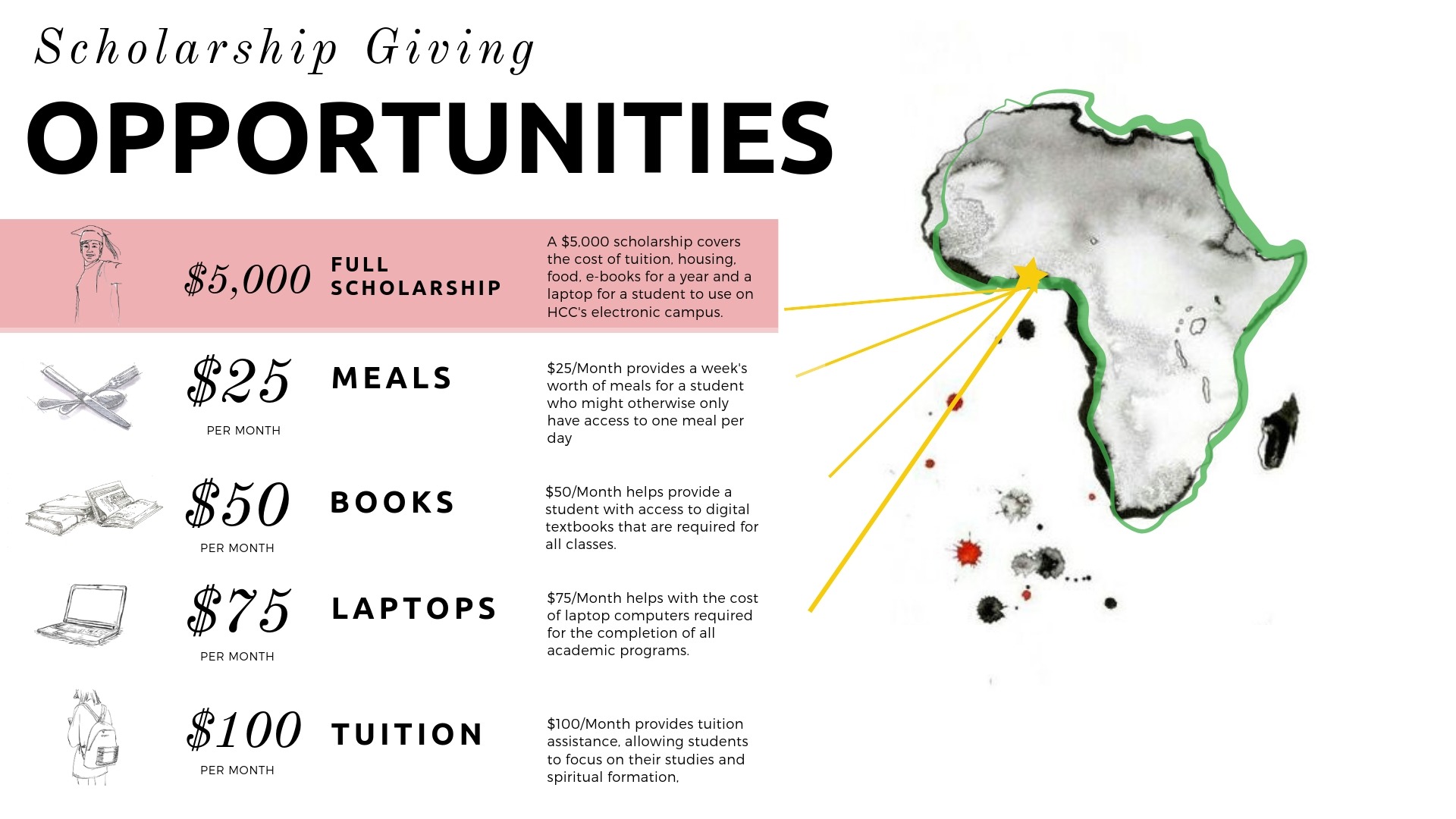 Can you put a price on changing an entire nation? For Zion, the answer is yes. For Dennis and for Kofi the answer is yes. For Dina, and hundreds more just like her, there is no place you can put your money where it will do more good. There is no place you can put your money where it will do more to bring enlightenment and turn the tide against forces of extremism that threaten not just Ghana but the entire region of Africa. Help Africa rise by helping HCC establish a Christian college that instills not just knowledge but Christian fervor.
"Nea ope se obedi hene daakye no, firi ase sue som ansa." To lead is to serve. At Heritage Christian, this is the mission – to lead the great nation of Africa by serving its people. Let's join them in this vital cause. We hold tomorrow's Africa in the palm of our hands.