A Q-and-A with Oxford Afful and Dennis Abbey explaining Kings and Queens Unixes Salon, one of the startup businesses at Heritage Christian College.
Kings and Queens Unisex Salon was recently granted GHc 10,000 (2,068.12 USD) as startup money for their business from Heritage Christian College. The HCC Start-Up Challenge is an initiative of the Center for Entrepreneurship, Philanthropy and Ethics (CEPE), a unit of HCC. The Center organizes annual business competitions for members in the HCC community. The aim of the competition is to award the best business proposals a prize and provide support to turn the proposals into a successful business. The Center seeks to challenge student entrepreneurs to dream, experiment, iterate and persist. (Where the tag "HCCF" appears, the speaker is the interviewer from Heritage Christian College Foundation.)
HCCF: What inspired you to choose the project you chose for your business plan?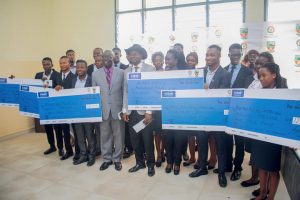 DENNIS ABBEY: We got inspired by the fact that there is high demand for grooming services in the area we want to situate our business and we also looked at how this business will create employment opportunities.
HCCF: Why will your business succeed?
OXFORD AFFUL: The business will succeed because we believe the quality of our grooming services will be of high quality, we will also offer the service at a moderate price therefore the demand for our services will increase. We also studied that the rapid population growth in the area (Adenta-Accra) will lead to increase in demand of our services.
HCCF: How might you yourself "BE the change you would like to see in the world"?
OXFORD AFFUL: The main problem we want to change is unemployment, therefore we want to create as many job opportunities as possible by creating different branches to our business.
HCCF: Who was your faculty advisor or mentor and what did that person do or say that helped you most?
DENNIS ABBEY: Our mentor was Mr. Conrad Kakraba and what he told that us that helped us most is that we should persevere and be focused and be determined on the idea. He helped us to write down our business plan and the registration of the business.
HCCF: During your time at HCC, how have you changed as a person?
OXFORD AFFUL: During my stay at HCC I have become entrepreneurial and ethically conscious.
DENNIS ABBEY: I have been inculcated with entrepreneurial ideas and it has also given me a philanthropic mindset. I always want to solve societal problems especially in the aspect of unemployment.
HCCF: Who is someone (who are some people) who inspire(s) you, and why did he/she/they inspire you?
OXFORD AFFUL: The person who inspire(s) me is Dr. Victor Boadu. He inspires me because he aims for the best and that is what I want for my Life. 
DENNIS ABBEY: The person who inspire(s) me is Dr. Osei Kwame Despite. He inspires me because his life teaches others how to persevere and go through the hardships of life.
HCCF: Do you think that networking with others holds a key to your future success? How might networking advance your own cause?
DENNIS ABBEY: We believe that networking with others holds a key to future success. Our cause is to create employment to the unemployed. Networking will help us get in touch with the right individuals to be able to advance our cause, in this case networking with the Center for Entrepreneurship, Philanthropy and Ethics has helped us realize this cause.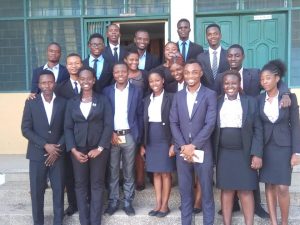 HCCF: Will the funds that you received as a winner be sufficient to get your barbering business off the ground? If not, what will you do to raise the remaining funds?
OXFORD AFFUL: The funds we won will not be enough to raise the business off the ground so we will appeal for funds from individuals who are interested in our business. Our second attempt will be to go for a loan to help in setting up the business.
HCCF: Will the business be launched as a full-time job for one or both of you, or will you have to begin as a part-time venture?
DENNIS ABBEY: The business will be launched as a part time business since we are all students and we will make it a full time business after college to give the business the full attention it deserves.
HCCF: Is one of you more of an artist and the other more of the business person? How do your skills complement one another?
OXFORD AFFUL: Dennis is more of an artist and I have skills in management. I will plan the business strategies and how to use the available skills to make business expand. Dennis will help in executing the business strategies planned by myself.