A Q-and-A with Patrick Egyir, Samuel Gyesi and Ezekiel Amevor explaining PESEZ Farms (poultry farming), one of the startup businesses at Heritage Christian College.
PESEZ Farms was recently granted GHc 10,000 ($2,060.79 USD) as startup money for their business from Heritage Christian College. The HCC Start-Up Challenge is an initiative of the Center for Entrepreneurship, Philanthropy and Ethics (CEPE), a unit of HCC. The Center organizes annual business competitions for members in the HCC community. The aim of the competition is to award the best business proposals a prize and provide support to turn the proposals into a successful business. The Center seeks to challenge student entrepreneurs to dream, experiment, iterate and persist. 
There are many poultry farms in Ghana, but the demand is increasing. Commercial Poultry Farming in Ghana: Business Plan and Revenue states "The poultry business is one of the ventures that promises high returns within a short time if done correctly." Best of luck to Patrick, Samuel and Ezekiel as they begin their new business!
(Where the tag "HCCF" appears, the speaker is the interviewer from Heritage Christian College Foundation.)
HCCF: What inspired you to choose the project you chose for your business plan?
SAMUEL GYESI: We chose poultry farming because we know this is one of the ways through which we can feed the society with quality poultry product and through that make money.
HCCF: Why will your business succeed?
EZEKIEL AMEVOR: We think it will succeed because a report issued by United States department of Agriculture (USDA), indicates that the consumption of poultry product is rising and this has led to high demand over supply. And adding, our business location currently has only one small scale poultry farm which cannot supply the whole community.
HCCF: How might you yourself "BE the change you would like to see in the world"?
PATRICK EGYIR: We are not going to bring spoiled poultry product into the market. That is the change that will distinct us from others.
HCCF: Who was your faculty advisor or mentor and what did that person do or say that helped you most?
EZEKIEL AMEVOR: Dr. Obiri Yeboah was our advisor and he helped us in so many ways. With his experience in the poultry farming, he gave us the way to go about it.
HCCF: During your time at HCC, how have you changed as a person?
SAMUEL GYESI: We have learnt a lot. Public speaking which is a big problem has been overcome. Associating and most of all, the daily chapel session has shaped us morally.
HCCF: What have you seen in your classmates that makes you appreciative of them? What have you seen that impresses you about them?
EZEKIEL AMEVOR: They are very supportive in terms of after class tutorials.
HCCF: Two motives that CEPE urges upon its students are the drive to "iterate" and to "persist." Can you explain what is important about these? How have you yourself applied these motives?
SAMUEL GYESI: This is very crucial because the going will always be tough but you have to get up and try again. We had so many ups and downs during the challenge. We were turned down on several times to redo our work and we never gave up.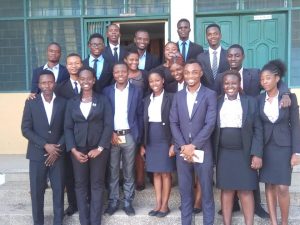 HCCF: How big will your poultry farm be?
PATRICK EGYIR: We are hoping to have about 50 thousand birds in the next 5years and plan to have 3 plots of land for the business in the next 4 years.
HCCF: Are you introducing any new practices into the age-old business of raising poultry? Any fresh angles to your business model?
EZEKIEL AMEVOR: We are going to have precut and package our product which is not done by the local producers. And we think it is going to add an extra edge to our activities.
HCCF: Do any of you partners have agriculture in your background? What led you to create this business?
PATRICK EGYIR: We have basic agriculture background from junior and senior high school and practically have some experience.