A Q-and-A with Victor Dawutey, Emmanuel Adu Bitherman and Evelyn Quaye explaining PROMPTO PACS (Catering Service), one of the startup businesses at Heritage Christian College. 
PROMPTO PACS was recently granted GHc 10,000 ($2,060.79 USD) as startup money for their business from Heritage Christian College. The HCC Start-Up Challenge is an initiative of the Center for Entrepreneurship, Philanthropy and Ethics (CEPE), a unit of HCC. The Center organizes annual business competitions for members in the HCC community. The aim of the competition is to award the best business proposals a prize and provide support to turn the proposals into a successful business. The Center seeks to challenge student entrepreneurs to dream, experiment, iterate and persist. (Where the tag "HCCF" appears, the speaker is the interviewer from Heritage Christian College Foundation.)
HCCF: What inspired you to choose the project you chose for your business plan?
VICTOR DAWUTEY: Students wanted a variety in the food they consumed since there was only one catering service on the campus of HCC and a few others in the surrounding communities. So this gave us the idea of starting a catering business to serve the student and the surrounding communities.
HCCF: Why will your business succeed?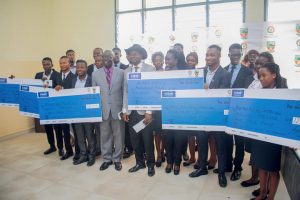 EMMANUEL ADU BITHERMAN: Our business will succeed because we have experienced personnel who are capable of running this business. We also have the passion and commitment towards the business. We also believe that CEPE is there to help with us be the business we want to be.
HCCF: Who was your faculty advisor or mentor and what did that person do or say that helped you most?
EVELYN QUAYE: Our faculty advisor is Mr Jojo Lartey. He helped us with drafting our business plan. He also taught us how to make our business distinct from similar businesses by adding value to our products and services.
HCCF: During your time at HCC, how have you changed as a person?
VICTOR DAWUTEY: I've become more disciplined, time conscious, more ethical.
EVELYN QUAYE: I have become spiritually active and more disciplined through HCC.
EMMANUEL ADU BITHERMAN: HCC has taught me how to use Information Technology to help others and to solve day to day challenges.
HCCF: Can you explain what PROMPTO PACS are?
EVELYN QUAYE: PROMPTO PACS is a catering service that deals with pastries and local dishes. We will also be adding delivering to the business.
HCCF: What will make your catering service the preferred choice in your customer base?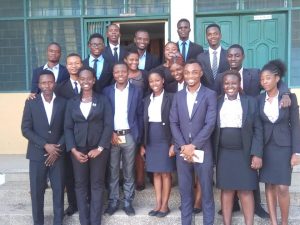 VICTOR DAWUTEY: Our business will be a customer first business, delivering quality food and also make the health of our customers our priority.
HCCF: Catering requires some degree of "people skills." Can you describe the skills that each of you have that will make this work for you?
EMMANUEL ADU BITHERMAN: I have skills in IT and a mediocre skills in management. 
VICTOR DAWUTEY: I have 10 years of experience in cooking and a certified certificate in catering.
EVELYN QUAYE: I have Marketing and customer relation skills and I believe with my skill I can help the business grow and expand.