A Q-and-A with Comfort Awuah and Roberta Agyei explaining A-DAN Snail and Mushroom Farm, one of the startup businesses at Heritage Christian College.
A-DAN Snail and Mushroom Farm was recently granted GHc 15,000 ($3,091.19 USD) as startup money for their business from Heritage Christian College. The HCC Start-Up Challenge is an initiative of the Center for Entrepreneurship, Philanthropy and Ethics (CEPE), a unit of HCC. The Center organizes annual business competitions for members in the HCC community. The aim of the competition is to award the best business proposals a prize and provide support to turn the proposals into a successful business. The Center seeks to challenge student entrepreneurs to dream, experiment, iterate and persist.
"A very small- or medium-scale production, I say 6,000 capacity, which we are now making as the beginners category, can give you roughly about 13,400 Ghana Cedis as your net profit per annum…and this is in just 32 feet by 20 feet stretcher." -Theophilus Quartey, President of Mushroom Growers and Exporters Association (MUGREAG) in Ghana. Learn more about Mushroom Farming in Ghana.
 (Where the tag "HCCF" appears, the speaker is the interviewer from Heritage Christian College Foundation.)
HCCF: What inspired you to choose the project you chose for your business plan?
COMFORT AWUAH: We realized there was an opportunity in agriculture regarding snail and mushroom farming since there were few producers for these commodities, the sale and demand was steadily increasing. Since we had the passion to go into snail and mushroom business we ventured into it to meet the demand for it.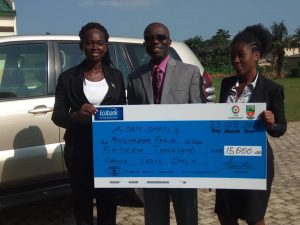 HCCF: Why will your business succeed?
ROBERTA AGYEI: Because of our passion and interest in the business we also have a good advisor who is already in the business and qualified personnel.
HCCF: How might you yourself "BE the change you would like to see in the world"?
ROBERTA AGYEI: We want others to know the health benefits of consuming snail and mushroom rather than consuming the commodities that will shorten the life span of the people. We want the world to have a healthy life by consuming our products.
HCCF: Who was your faculty advisor or mentor and what did that person do or say that helped you most?
COMFORT AWUAH: Our faculty advisor is Dr. Victor Boadu. He encouragement us to persevere and learn more about snail and mushroom farming especially on how to add value to our products. He also assisted us to in the registration of the business.
HCCF: During your time at HCC, how have you changed as a person?
ROBERTA AGYEI: HCC has changed our lives both mentally and spiritually. HCC has taught us how to solve the problems around us and transforming that into business opportunities. Our dream of owning a business came true through HCC.
HCCF: How soon do you think you will begin earning a living wage with your startup?
COMFORT AWUAH: We've estimated to start earning a living wage in one year time after the start of the business.
HCCF: What is a teaching from the Bible that you would like for your business to display or represent?
ROBERTA AGYEI: A teaching from the Bible that we want our business to display is looking into the interest of others (customers) and not our own interest so that we can help others as God continue to bless us. We based this on the Bible quote from Hebrews 2:3-4.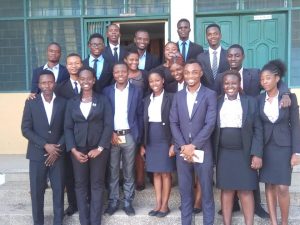 HCCF: How is your business model different from the Rosemush Farm project?
ROBERTA AGYEI: Our business deal with fresh mushrooms and snails and making the products directly available to customers. Rosemush deals in dried mushrooms and making it available to wholesalers and retailers.
HCCF: Does snail farming work well with mushroom farming? Why did you choose those two commodities? 
COMFORT AWUAH: Yes they work well with snail farminG. Our survey in Ghana shows that people mostly use mushrooms and snails in preparing some of their dishes such as palm nut soup, light soup, okro stew etc. Therefore we hope to satisfy the demand of the people who demand these products.
HCCF: Is there anything in your backgrounds that prompted you to go in this direction?
COMFORT AWUAH: I have a relative who is into farming therefore I can the assistance I need to go into this direction.
ROBERTA AGYEI: Since high school I had the passion for snail and mushroom farming.