The first part of our series highlighted the unique tech-forward environment at HCC. In this installment, we take a closer look at HCC's Maker Lab, modeled after a similar program currently employed at Abilene Christian College (ACU).
Cutting-Edge Technology at HCC
Let's dive into the specific tech-minded projects that are underway at HCC and how these projects are being implemented on campus in hopes of transforming the economy of Ghana, and eventually impacting Africa beyond the borders of Ghana.
The Maker Lab & 3D Printer
HCC has recently gained access to some pretty amazing, cutting-edge resources, one of which is its very own Maker Lab. The Maker Lab at HCC is modeled after, and conceptually identical to, the Maker Lab at Abilene Christian University (HCC's international partner in Texas). Currently, the main attraction of HCC's Maker Lab is its 3D printer. Students have access to the printer and will be encouraged to create a number of items in various programs at HCC.
If you are not familiar the Maker Lab, here is how ACU sums it up:
"The Maker Lab is a place on the ACU campus where students, faculty, and staff give form to their ideas. The significant opportunity the Maker Lab brings to students is the opportunity to develop skills in ideation, design, creativity, prototyping, and collaboration that allow them to fully participate in shaping the world around them. The Maker Lab is an ideation studio and prototyping shop that reflects a broader concept called 'Maker Movement'—a global sub-culture that is focused on rapid fabrication of innovative products that address personal interests and sometimes broader societal problems."
Although HCC's Maker Lab is still in its formative stages, it is inspiring to see the kinds of things that ACU's community has created using the Maker Lab. One specific example comes from a group of Occupational Therapy students at ACU who created prosthetic hands for amputee patients using 3D printing technology.
A news article featured on ACU's website explains,
"[This] project was part of the course Intro to Making, which has a goal of connecting students with technology, helping them understand the 3D printing process and how they can potentially assist their future patients. Students worked in groups of four to five, downloaded the files, printed the hands using the 3D printer and assembled the hands using different tools. The finished hands were a variety of sizes, colors and designs with the goal of the prosthetic hands being used by amputee patients."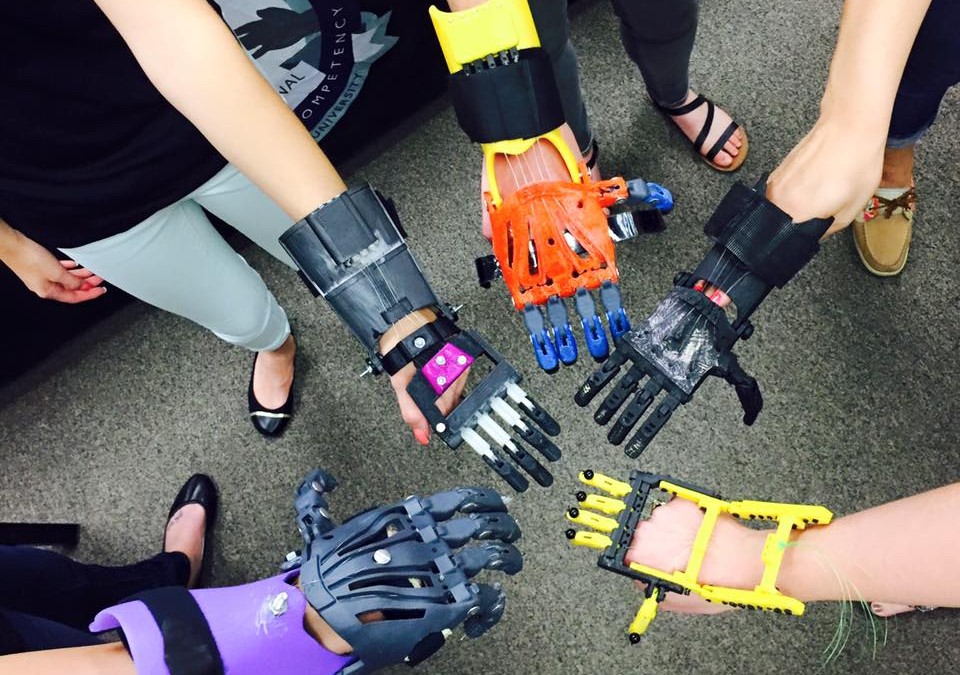 With HCC's intense focus on entrepreneurship and starting businesses in order to grow Ghana's economy, it's exciting to think about all the possibilities and opportunities that could potentially come out of HCC's Maker Lab. Through HCC's Maker Lab, students have the tools and resources to create things that can affect and benefit the Ghanaian economy. HCC has begun implementing courses, similar to those at ACU, in which the students are learning about this technology and exploring what it can do. These courses are preparing and teaching the students how to create their ideas using a computer, as well as code diagrams that are needed for the 3D printer.
HCC's Maker Lab has the potential to benefit Ghana's economy in more ways than one. Aside from using the printers to create devices that entrepreneurs can use for business start-ups, the 3D printer uses a recycled material called ABS plastic to make ink. ABS plastic is readily available almost everywhere. In the U.S., this plastic is typically found in dumps. However, due to the lack of proper dumping in Africa, ABS plastic is found on the streets, and in rivers and lakes everywhere. It has become an ecological disaster. Since the 3D printer uses this plastic, students will be able to collect and recycle ABS plastic off the streets to make their own ink, which essentially creates cost-effective ink sourcing for the 3D printer.
Additionally, in order to turn the plastic into ink, a tool called an extruder is needed. In 3D printing, the ABS strand is guided into an extrusion head, or extruder, that heats the ABS plastic to its melting point and liquefies it. In normal circumstances, purchasing an extruder is quite expensive. Luckily for HCC, they were given an extruder device from the UK in order to make their own ink.
Keep in touch with HCCF's website and social media platforms for the third and final part in this series which will take a closer look at how HCC students will augment their studies using FarmBot technology.